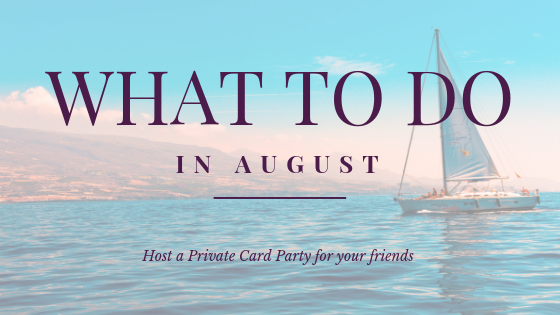 It's the PERFECT time to play with some colour, create, escape life's stress and relax for an afternoon or evening! Be the first in line to book a "friends-night-out". Invite your family and friends over for a stamping party, and I'll do all the work! Be one of the FIRST hosts during the 5 SPECIAL DAYS, so YOU get the free product, and a copy of the new Annual Catalogue.
I am booking Private Card Parties NOW for AUGUST. I have 5 special days in AUGUST where I will be offering FREE card classes for my favorite stampers and their friends. I have the following dates available. If you pick one of these days, I'll let you choose 5 FREE cards from my sample box.


Available dates and times, pick your NOW:


Aug 19 - 6:30 to 8:30 pm
Aug 20 - 6:30 to 8:30 pm
Aug 21 - 1:00 to 3:00 pm
OR
6:30 to 8:30 pm
Aug 22 - 1:00 to 3:00 pm
Aug 23 - 6:30 to 8:30 pm
If none of these dates work and you still want to book your private class, we can find a date that works for you!
It will be a fun event for you and your friends to create, laugh, relax and play with the newest Stampin' Up! Products, and even earn some FREE. We'll make
5 different note cards.Event Fee: $20/person to be collected by the Party Host and e-transferred to me in total no later than 5 August. All guests will receive a $20 product coupon at the event, to be used towards orders at the party: YES, I return the registration fee to all registered guests, all they need to do is place an order.

The best part is YOU as the host get the Stampin' Rewards (starts at $200 in Party Sales before shipping & tax)
This email address is being protected from spambots. You need JavaScript enabled to view it.
or text me today to reserve your date as they are on a first come first serve basis.
Creating, Fun, FREE, all work done by me…what could be better? Book your Private Card Party today!
Hugs, and don't forget to create and stamp a little whenever you can!
Christine