We hope you're ready for a ray of sunshine in your life, because the Everything Is Rosy Product Medley is here! This exclusive, limited-time collection of coordinating, petal-packed products has everything an avid crafter needs to let creativity bloom.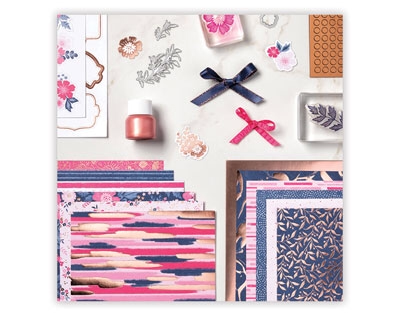 Everything is Rosy photopolymer stamp set included - ENGLISH or FRENCH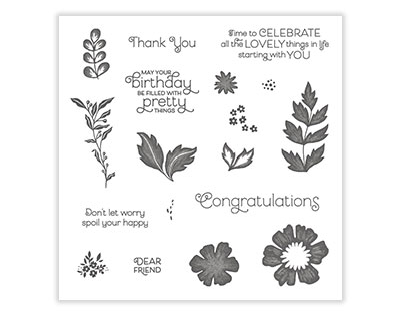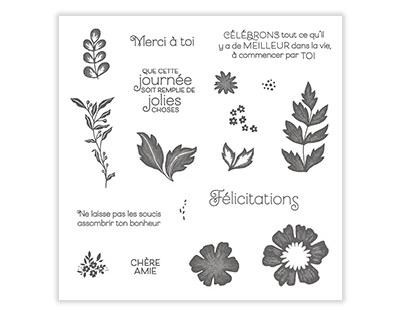 The Everything Is Rosy Product Medley is a new (and fabulous!) product offering,
filled to the brim with cute, coordinating products to provide you with endless creative possibilities.
The Product Medley will be available for a limited time (1 to 31 May) AND while supplies last.
The Everything Is Rosy Product Medley includes these exclusive products:
Everything Is Rosy Photopolymer Stamp Set—18 stamps; suggested blocks: a, b, c,
Everything Is Rosy Dies—10 dies; largest die 2-7/8" x 1" (7.3 x 2.5 cm)
6" x 6" (15.2 x 15.2 CM) Designer Series Paper Stack—48 sheets; 8 each of 6 double-sided designs
6" x 6" (15.2 x 15.2 CM) rose gold foil paper—8 sheets
Printed die cuts—2 sheets
Rose gold die cuts—4 sheets; 2 each of 2 designs
Rose gold adhesive backed mirror embellishments—60 embellishments; 1/4" (6.4 mm)
Melon Mambo 1/4" (6.4 mm) Ruched Ribbon—10 yards (9.1 m)
Night of Navy/Rose Gold 3/8" (1 cm) Metallic –Edge Ribbon—10 yards (9.1 m)
Rose Gold Shimmer Paint—1/2 oz. (15 ml)
Cost: $109 Item # 150059 (EN) - Item # 149665 (FR)