Events Calendar
Quick and Easy Card To Go - Whale & SeaTurtle

Wednesday, May 12, 2021, 07:30pm - 08:00pm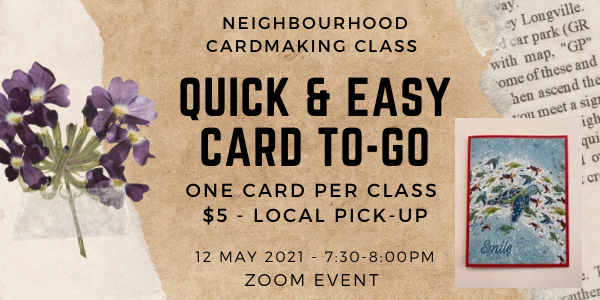 Something NEW for my neighbourhood crafters, this one is for kids!
Quick and easy cards made from kits provided at cost. On request, kits can be mailed to customers who feel contactless local porch pick-up at my studio is not something they want to do.
This can be a birthday card or a card for a friend. Cards might look different, depending on the number of sign ups, I have whales and sea turtles. Let me surprise you. If a customer wants two kits, I will make sure they look different.




I will provide envelopes, card bases and all layers, tag and embellishments, until we can meet in person, customers need to either hand-write the sentiments inside the card or use ink and a stamp from a set you might already own. In accordance with Stampin' Up! rule I am not permitted to pre-stamp anything using my own Stampin' Up! stamps.

I will offer the link to a pre-recorded video to anyone who is unable to join the Zoom class.

Register by using the form below.

Fee: $5 payable by EMT to This email address is being protected from spambots. You need JavaScript enabled to view it.





Register For This Event
---
Registrations are now closed