Events Calendar
Be Merry 365 - October 2022

Thursday, October 13, 2022, 06:30pm - 07:30pm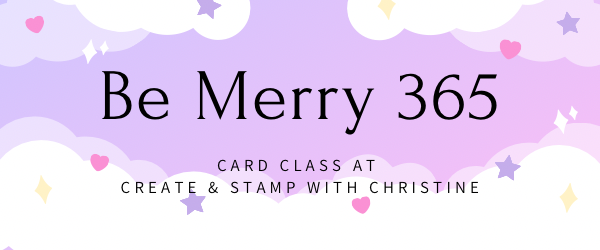 In this class we will make 6 cards, 2 each of 3 designs.
These cards are Christmas themed. We will be using new product featured in our 2022 Jul-Dec Mini Catalogue.
My class will be offered ONLINE as Class-in-the-mail.

Project videos, photos, supply lists and measurement will be posted in my Online Classes section to the Be Merry 365 event.
The link and access info to the web page will be emailed to paying customers one day prior to the class. You have access to the class website for 30 days, plenty of time to start or finish your projects at your own time.
The class fee is $30, the kit can be mailed to anywhere within Canada.

The class fee is $30. Your class is free with a minimum order of $50 at the time of registration. Email or text me your order, I will add it to my workshop order on 26 Sep.
This offer cannot be combined with any other promotions.
Registration closes 2 1/2 weeks prior to the event.
Register For This Event
---